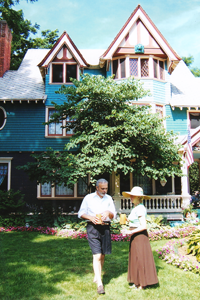 We're honored to have you as our guest. We've always loved entertaining, and as we approached early retirement we saw a wonderful opportunity to make it more than an occasional venture.
The Murphy House is a full-service Bed & Breakfast in addition to being available for private events such as weddings, anniversaries, bridal or baby showers, and corporate planning sessions.
Each season brings a special joy to those who enter our home and the surrounding grounds. We invite you to experience the Murphy House and build new memories.
Sincerely,
Pat Blackburn David and Rick David