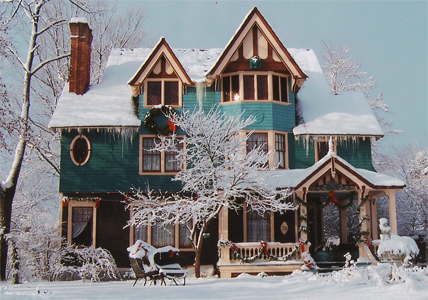 The Neighborhood
The Murphy House is located in the Franklin Historic district, one of three districts in Pontiac listed on the National Register of Historic Places. The neighborhood developed in stages as the population of Pontiac moved further west of downtown. Existing buildings were constructed beginning in 1848.
Henry Clay Ward, who owned the house at 295 W. Huron, platted the final section of the neighborhood in 1886. Buildings in the Franklin Boulevard subdivision were required to be used for "residence only... no saloon, store or other manufactory" and "no dwelling less than two hundred thousand dollars shall be erected." The neighborhood boasted residents who were among the most influential families of Pontiac and included lawyers, bankers, doctors, industrialists and newspaper publishers.
Franklin Boulevard was known as the Boulevard of Roses. Henry Clay Ward spent a large sum of money in the beautification of the neighborhood. In 1892, Detroit Publication, International, described the area as, "an avenue of which every resident of Pontiac feels a personal pride." Today Boulevard residents are returning to the area, once again, to a place in which every Pontiac resident can feel pride.
To learn more about historic Pontiac, please visit the
Pontiac Historic District Commission.
The House
The Murphy House was built over a period of time from 1895-1902. It's architecture is a mixture of Victorian Gothic Revival and Queen Anne Hybrid. Dr. J.J. Murphy was the original owner and was a physician in Pontiac. He held title to the property until 1944 and practiced medicine in the parlor.

Pat and Rick are the fourth owners of the home.